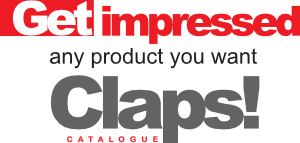 Claps catalogue is a complete portfolio of advertising gadgets from Italian company Get Impressed. The company exist on the market for many years and has an established position on the European market thanks to its enormous experience gained over the years. 3 logistic centres situated in Turin, Barcelona and Prague are ensuring permanent availability of advertising gadgets, even in big amounts. Claps catalogue, in one place, offers possibly the widest range of advertising gadgets of any kind –textiles, hats, kitchenware, through electronics, flashlights, clocks, umbrellas, stationary and office supplies, travel and personal accessories. Furthermore, the offer includes also direct import of advertising gadgets made on clients' special requests.
Żejmo & Siatecki – House of Brands – is an official, authorized distributor of Claps – Get Impressed products on Polish and Eastern European market.
For more information please visit: www.getimpressed.eu
or in online catalogue link 
or log in to the Customer Panel link
Visit our web-shop for more info about products.